It started off as a beautiful day..
I had planned to go out to Shibuya to buy a birthday present for my friend, in time for a dinner and bowling party that was planned for later on that evening..
2:40PM.
My room started to shake and all of the shelves began to rattle. A terrifying low rumble kept getting louder and louder..
I immediately reached for my phone to call my sister..(it was a miracle I got through to her)
We exchanged "I'm OK"s, but the line was cut off before I could say anything else..
I called my mother a second later (she's currently in Okinawa), but was unable to get through to her..
The room shook for quite a while and some things fell over-- fortunately, nothing too serious.
I was frightened and alone.. and unable to control my hands from shaking..
so I quickly grabbed my belongings and ran out of my apartment.
Everyone had come out of their buildings.. I've never seen so many people out at once.
Everyone.. holding onto their cellphones..
"Tsunagaranai.."
(It doesn't connect..)
I knew that earthquakes are almost always followed by aftershocks.. so I ran to my sister's apartment, hoping that her babies were ok too..
Elevators were shut down..
It was the fastest I've ever ran up twenty something flights of stairs..
These tall buildings in Tokyo are built to withstand powerful earthquakes-- by swaying.
Being so high up, the building swayed and swayed-- imagine those boat rides at carnivals.. (alright, not THAT intense..) but something like it..
Walls creaked and rumbled..
Throat burned like fire from all that running..
But I completely forgot about the pain when I saw the faces of my nieces..
Building shook again.. I've never been so scared in my life.
Unable to stand up..
I cried,
and I prayed.
-----
A massive 9.0 magnitude earthquake hit Japan, splitting roads and wrecking buildings..
Followed by a catastrophic tsunami that engulfed entire towns near the coast, killing thousands of innocent lives..
Now, Japan is faced with a possible nuclear plant meltdown...
Earthquake.
Tsunami.
Potential nuclear crisis.
It's really all too much for one country to handle in just a matter of hours...
The prime minister stated that Japan is facing the toughest crisis in Japan's 65 years of postwar history.
But in the midst of chaos, there is always hope.
Many survivors are being rescued from the wreck.. family members are being reunited.. and help is on it's way from other countries as well.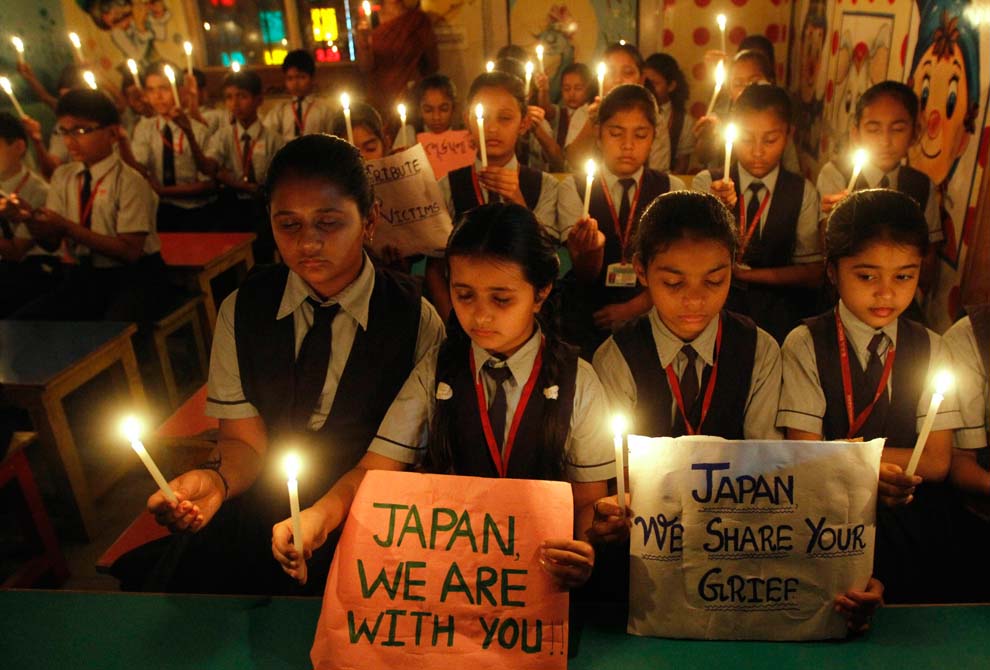 I've been on an emotional roller coaster since the earthquake..
But I'm so grateful to be alive, to have a roof over my head, warm food to eat, clean water to drink, and my loving family beside me.
My heart aches for those who are suffering from the pain of lost loved ones and homes...
For anyone who reads this.. if any.. please, pray for Japan...
This country needs your prayers and support now.
Love,
Christine*